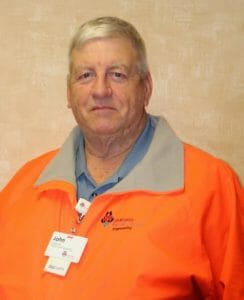 Why I Chose Burgess
Diabetes is a disease that will not go away, but it can be managed by taking proper and necessary steps. Burgess Diabetes Center offers the latest in technology to help patients manage their blood sugars.
A Continuous Glucose Monitoring System (CGMS) consists of a sensor worn on the back of the upper arm. The sensor uses a thin flexible filament inserted under the skin and measures glucose every minute. The blood sugar data from the sensor is downloaded to a computer and a print out shows a full 24 hours of blood sugars. The sensor can be worn for up to 14 days.
John Maule, a five-year diabetes patient, has had previous struggles with keeping track of his blood sugar. After wearing the professional CGMS, it motivated him to get a personal version and download the phone app.
"I'm afraid of needles, so pricking your fingers all the time was a big step for me," said Maule. "Then on top of it, you have to keep track of the strips." It got to be too much of a hassle for Maule that eventually he became inconsistent with testing his blood sugar altogether.
When a diabetes patient is inconsistent or just stops checking their blood sugar, they are taking a major risk.
Michele Kirkendall, Burgess Health Center diabetes educator, and dietician said not checking your blood sugar can lead to problems with a diabetes patient's vision, heart, kidneys, and circulation in hands and feet.
"You can also feel extremely tired and just not feel like doing anything," said Kirkendall.
Since beginning the sensor in May, Maule has noticed an improvement in his daily life.
"I think the biggest thing is I know what to eat when to eat and how I react to what I eat." Before he was just guessing and paying the consequence later.
The sensor relays important information to the reader, such as graphs and charts.
All of these conveniences have changed the way Maule feels about checking his blood sugar.
"I can't believe that anyone with diabetes doesn't struggle with pricking their finger," he said. "I would recommend the sensor to anyone with diabetes."
Personal Continuous Glucose Monitors are becoming a very useful tool to help individuals monitor their blood sugars. If you or someone you know could benefit from this technology, contact our diabetes educators at Burgess Diabetes Center.
www.burgesshc.org or call 712-423-9268.