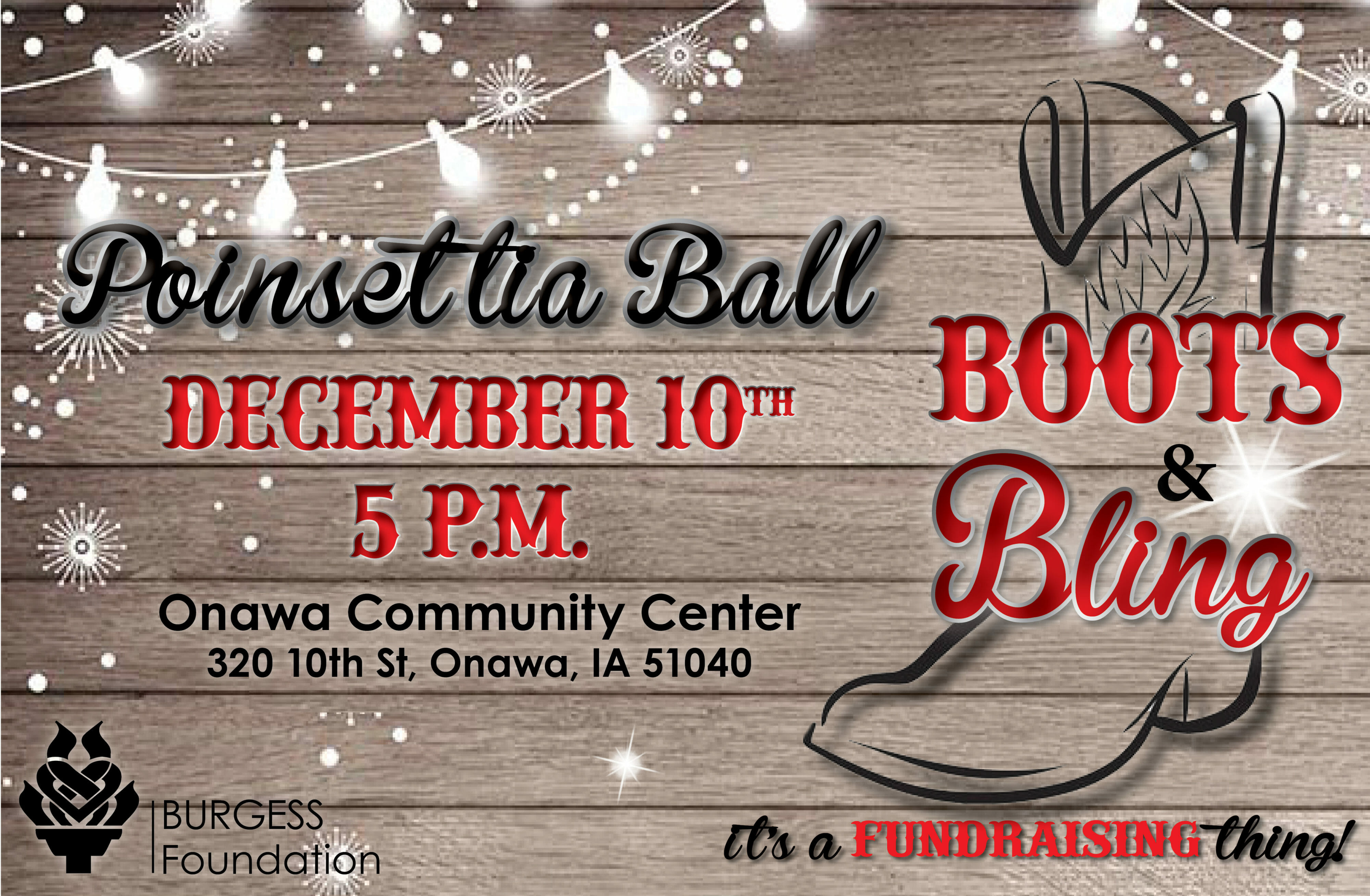 2022 Poinsettia Ball –  "Boots & Bling it's a FUNDRAISING Thing!" 
We are so excited about this year's Poinsettia Ball – Boots & Bling – It's a Fundraising Thing! We are bringing the event back to Onawa – Yeehaw! And what's even better, we have created two ways to enjoy the Ball this year – online and in-person.
The Burgess Foundation's annual Poinsettia Ball event has been a long-standing tradition in our rural community of Onawa, IA. Each year, hundreds of supporters come for an evening of food, fun, and philanthropy. We saw things happen a little differently the last two years due to COVID, but we are excited to have ya'll together again. Saddle up – we are bringing the event back to the Onawa Community Center!
The online auction will begin at 10 a.m. on Monday, November 28th. Participants can set their highest bid on these hand-picked, just-for-you items, bid throughout the week, or wait till the very last second and come riding in for the win at 8 p.m. on Friday, December 2nd. Use 
https://poinsettiaball2022.ggo.bid
 to set up your account and start bidding! (Note: the online auction site is live, but no packages have been uploaded. The plan is to start adding to the site on November 7)
Now, let's get to the main event! After years of hosting the Ball at the WinnaVegas Casino in Sloan and two years of online auctions, we are back in person at the Onawa Community Center in Onawa. Mark your calendars for some boot-scootin-boogie starting at 5 p.m. on Saturday, December 10th! There will be a cash bar, heavy hors d'oeuvre, a live auction, and DJ for entertainment later in the evening. Attire is Boots & Bling, but you can dress it up or dress it down to your liking.
Funds raised through this year's Poinsettia Ball will be used to provide our Surgery Department with new endoscopy equipment. Endoscopy is one of the most common medical imaging methods for screening and diagnosing conditions affecting the lungs, colon, throat, and gastrointestinal tract. Our scope equipment is aging, and with a new scope, our surgeons can see images clearer and determine whether or not a biopsy is needed.
If you would like to become a sponsor or purchase single tickets, call Bobbi at 712-423-9374 or email bjohnson@burgesshc.org.