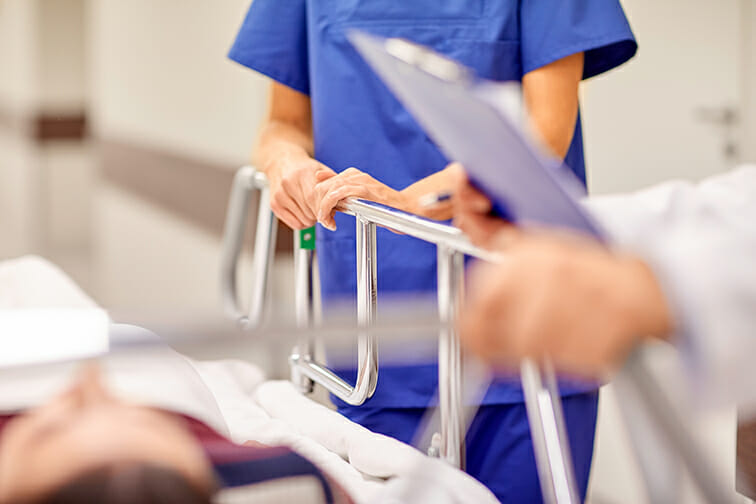 We understand that minutes matter in an emergency. That is why Burgess Health Center has specially trained staff in our Emergency Department. Our team is prepared, day and night, to respond to all conditions, from minor injuries to life-threatening emergencies.
Burgess Health Center understands your visit to our Emergency Department is an unexpected crisis for you and your family. Your time and quality of care are both very valuable to us. We will serve you in the timeliest manner possible and keep you informed as we diagnose and treat your medical needs.
We have the latest technology and resuscitation equipment paired with our radiology and laboratory services to diagnose and treat emergency situations.
At times, it may be necessary to transfer patients to a trauma center for a higher level of care. In those instances, Burgess has a landing pad for medical transport helicopters to transfer critical care patients quickly. For non-urgent transfers, our ambulance will transfer patients.
Staff from Burgess attend public events and works closely with area First Responder Services, Law Enforcement and the local Fire Departments on emergency calls.
Burgess is certified by the Iowa Department of Public Health as a Community (Level IV) Trauma Care Facility.
Ambulance
Our three ambulances are staffed with paramedics and EMTs and are available around the clock to respond to off-site emergencies and 9-1-1 calls.
Two of our ambulances are always available for paramedic staff use, but the other is available to make appearances at local events. If you would like to request the ambulance be present at your next event whether it be a parade, classroom visit or a sporting event, please contact the director of Emergency Services at (712) 423-2311.