Why drive to Omaha or Sioux City? Burgess Health Center brings healthcare specialists directly to Onawa to provide quality care for you. Leading regional doctors perform procedures and surgeries right here at Burgess.
While the physicians staffing these clinics may change, the process of adding a clinic has remained the same. The Burgess active medical staff identifies a need to have a specialist available on a regular basis for their patients. The hospital then works with active medical staff and specialty physicians to make arrangements to have the physician see patients on a regular basis using the hospital outpatient department as their office.
Individuals wishing to see a physician at one of the specialty clinics should contact their family physician for a referral. If you have questions about these clinics, call 712-423-9363.
With Burgess Specialty Clinics here at home, you only need to be on one road — the road to good health.
Sleep Studies are conducted at Burgess Health Center. Contact your primary care provider for a referral.
As of January 1, 2023, all patients with traditional insurance will pay a co-pay only for orthopedic appointments.  **Excludes hospital services such as radiology, lab, surgery, rehab, etc. will be billed from Burgess Health Center and will go towards your deductible rather than your co-pay.
Ask your family physician for a referral to Burgess Specialty Clinics today.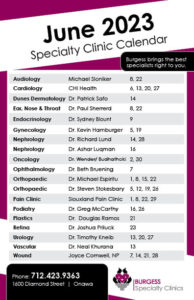 ---