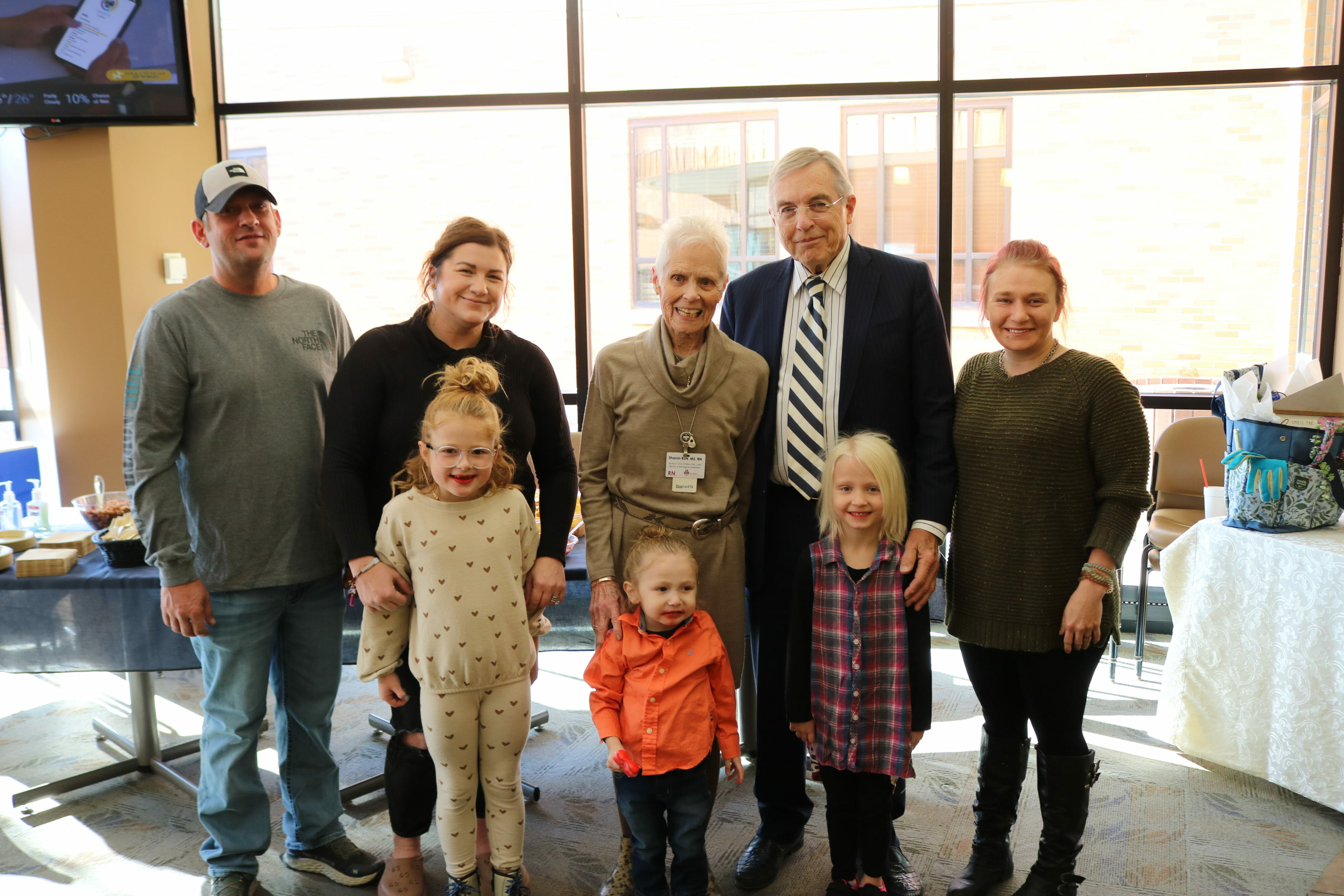 Sharon Taylor – Leaving a Legacy
On Monday, November 21, Burgess Health Center celebrated Sharon Taylor's legacy as she retires from full-time work at Burgess Health Center.
Sharon's career began 48 years ago working part-time for Burgess to set up the education program. Since then, the impact she has had on Burgess is one for the record books.
"Sharon has always supported Burgess and has been the organization's biggest champion and advocate," said Erin Brekke, Vice President of Support Services at Burgess Health Center. "You can feel the pride Sharon has for this organization, and over all these years, through difficult times of change, that has never wavered. Even through a pandemic."
Sharon was instrumental in the success and startup of many organizations, programs and departments at Burgess. Including establishing the education program, the Home Health Department, the Swing Bed Program, Employee Wellness and Community Wellness programs, and Burgess' own employee-funded organization, Burgess People Care. In more recent years, she oversaw Infection Control and Prevention, Compliance and Risk Management, and Privacy and Accreditation.
For her commitment and devotion to Burgess, Sharon received a Guardian Angel Award and an engraved paver with her name in the Healing Garden both from Burgess People Care.
"It has been an honor to work at Burgess over the last 48 years, and I want to offer my sincere thanks to our employees whose hard work and dedication have allowed us to achieve so much," said Sharon. "I also want to thank our patients and communities for their ongoing support. I have worked with many individuals over the years and am confident that my predecessors will continue excellent leadership for Burgess. It has been a pretty smooth transition."
Sharon's hard work and dedication to Burgess has created some big shoes to fill. The legacy she is leaving will be impactful for the future of Burgess, our patients, and the communities we serve. Sharon has decided to stay on as PRN (as needed) to assist in the transition of her multiple roles. Thank you, Sharon, for providing us with 48 years of knowledge and expertise. Here's to a happy retirement and wishing you all the best!
Photo from left to right: (back row) Mark and Jenny (Taylor) Dehn, Sharon and Gary Taylor, Jessica Taylor (front row) Merrick Dehn, Graham Riley, Denver Riley