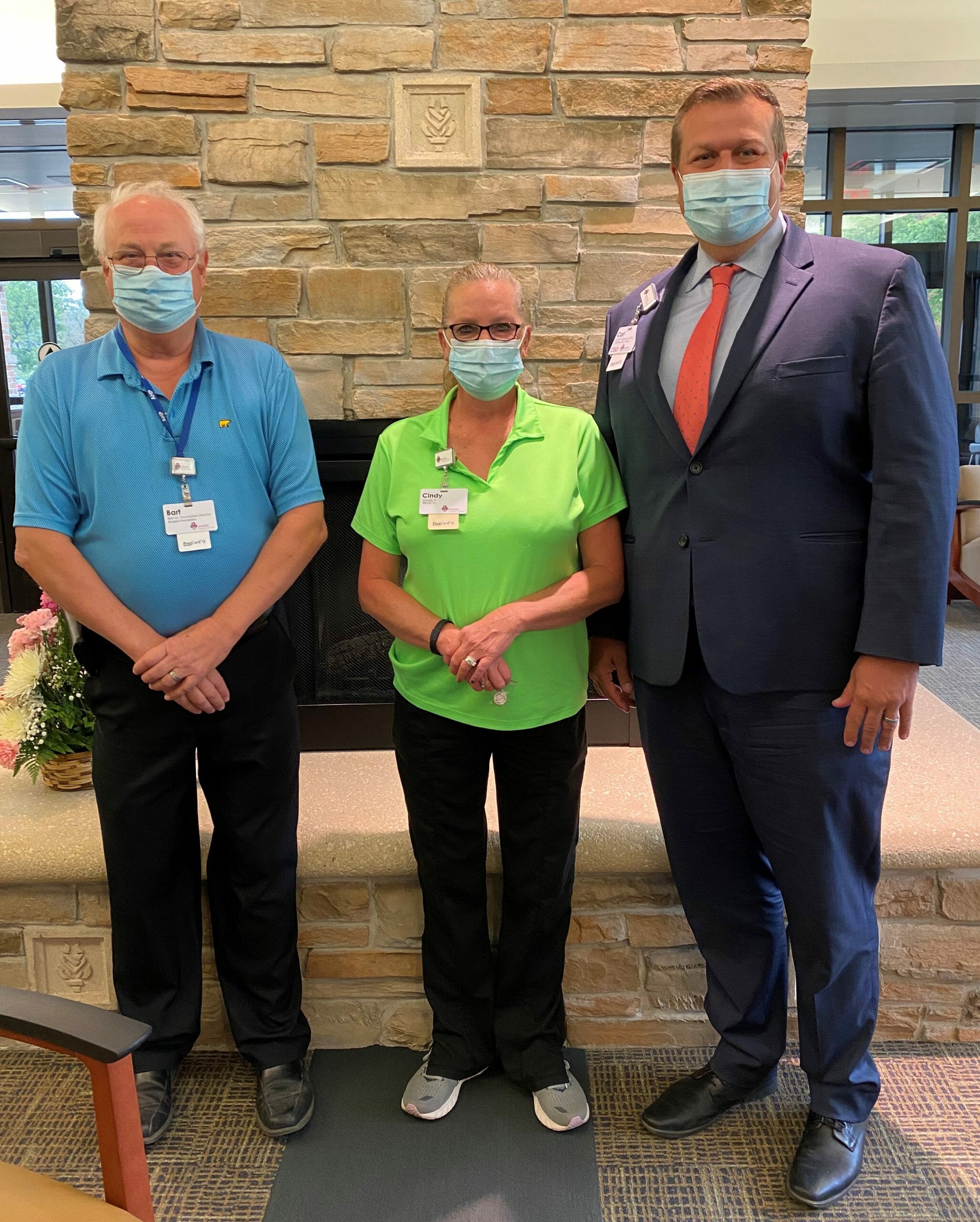 Guardian Angel Recognized at Burgess Health Center
Burgess Health Center is proud to announce the nomination of Cindy Parks, Rehabilitation Technician in the Burgess Rehabilitation Services Department, for the Burgess Foundation Guardian Angel Award.
The business and registration office at Burgess Health Center wanted to recognize and thank Parks for her dedication to Burgess and our patients. Cindy was vital in the process of coordinating COVID-19 precautions. Without hesitation, she stepped up and successfully took over the screening desk in the front lobby of Burgess Health Center. Cindy had little time for training but quickly embraced her new duties.
"Every day, Cindy welcomes patients and staff with an inviting smile, calms patient's nerves, and explains with true empathy why we are enforcing new rules at our facilities," said her fellow coworkers. "She goes above and beyond her duties, which sometimes ends in her making a quick trip to the cafeteria for a cup of water of coffee for a patient."
"Thank you, Cindy, for your teamwork, compassion, empathy, and willingness to do whatever is needed," added her coworkers.  "Our staff and patients continue to be safe because of your hard work and dedication. You are a true Guardian Angel."
Burgess Foundation's Guardian Angel program provides patients, family members, and friends a chance to show their gratitude to a physician, nurse, or another caregiver who has played an exceptional role in their lives. The Guardian Angel received an acknowledgment letter announcing that a donation has been made in their honor and given a custom-crafted lapel pin to wear proudly.
Did a caregiver at Burgess make a memorable difference for you or your family? If so, you can honor that special person in a highly visible way through Burgess Foundation's Guardian Angel program. It is more than a pin. When you take advantage of our Guardian Angel program, you also help ensure the future of outstanding health care in the region.
Visit www.BurgessHC.org/about/foundation/guardian-angel/ or call 712-423-9374 to make your nomination(s).
Photo: (left to right) Bart McDowell, Foundation Director, Cindy Parks, and Carl Behne, Chief Executive Officer at Burgess Health Center.