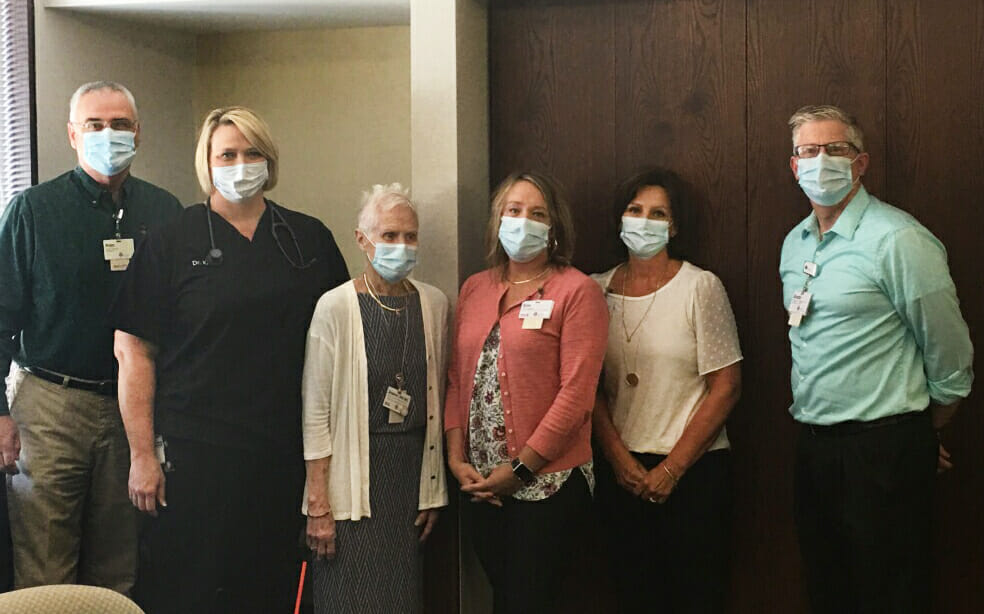 Guardian Angels Recognized at Burgess Health Center
Burgess Health Center is proud to announce the nominations of four members of the Incident Command team for the Burgess Foundation Guardian Angel Award.
Grady Warner, Director of IT at Burgess Health Center, wanted to recognize and thank these members for their efforts throughout the COVID-19 crisis. They each have put forth countless dedicated hours and have shown exceptional leadership in these uncertain times.  As the driving force through this crisis, this team collaborated with state and local entities, guided safe patient care, provided input for nursing home protocols, and so much more.
To read each nomination in its entirety, please click "read more" below.
Guardian Angels:
Erin Brekke  … read more
Teresa Butler … read more
Dr. Tracy Kahl … read more
Sharon Taylor … read more
Burgess Foundation's Guardian Angel program provides patients, family members, and friends a chance to show their gratitude to a physician, nurse, or another caregiver who has played an exceptional role in their lives. The Guardian Angel, rather Angels in this unique case, received an acknowledgment letter announcing that a donation has been made in their honor and given a custom-crafted lapel pin to wear proudly.
Did a caregiver at Burgess make a memorable difference for you or your family? If so, you can honor that special person in a highly visible way through the Burgess Foundations Guardian Angel program. It is more than a pin. When you take advantage of our Guardian Angel program, you also help ensure the future of outstanding health care in the region.
Visit www.BurgessHC.org/about/foundation/guardian-angel/ or call 712-423-9374 to make your nomination(s).
Photo: (left to right) Fran Tramp, president of Burgess Health Center, Dr. Tracy Kahl, Sharon Taylor, Erin Brekke Teresa Butler, and Grady Warner.