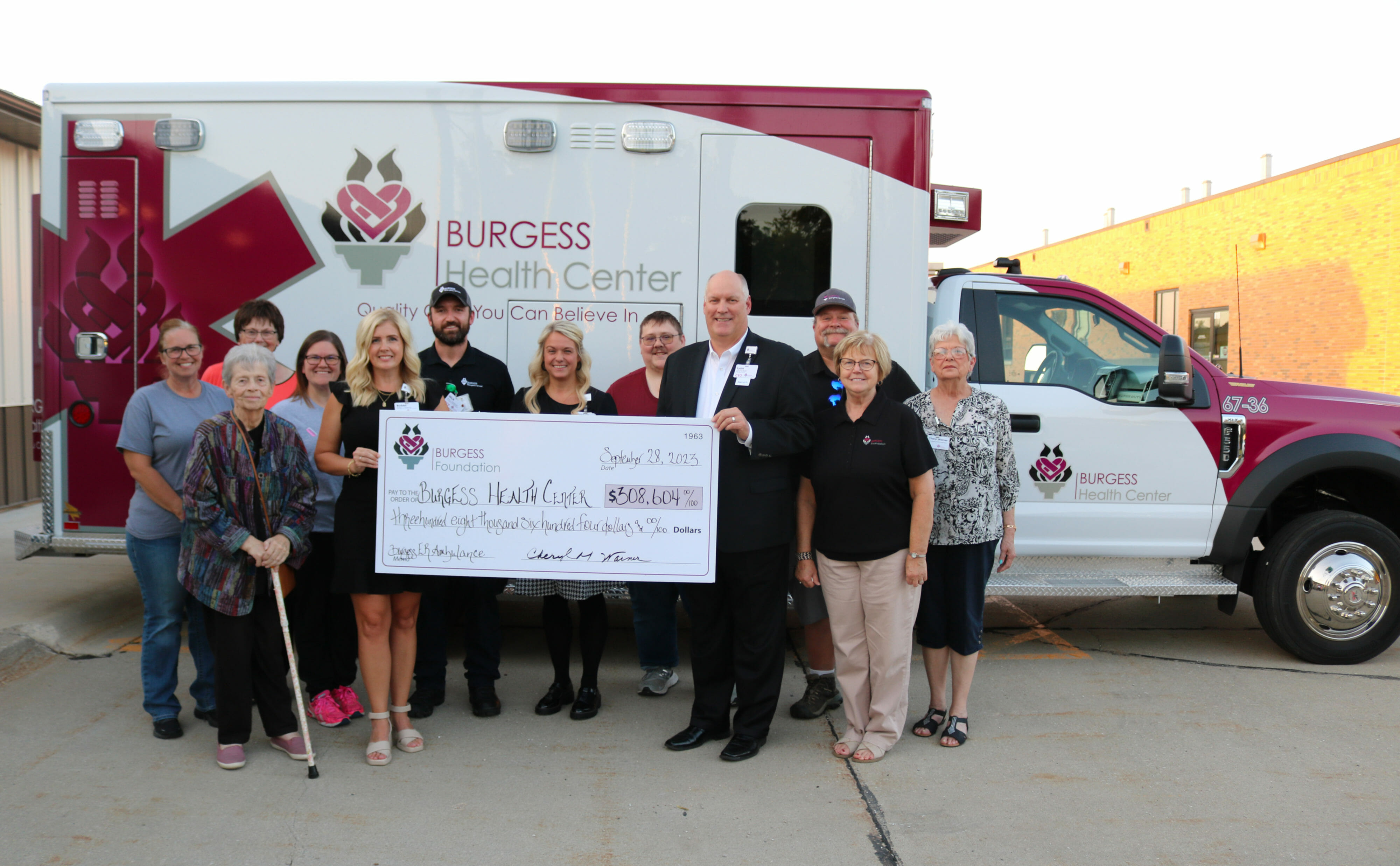 Burgess Foundation Donates State-of-the-Art Ambulance Worth $308,604 to Burgess Health Center
The Burgess Foundation, under the visionary leadership of Bobbi Johnson, Director of the Foundation, is delighted to announce the donation of a cutting-edge ambulance valued at $308,604 to Burgess Health Center. This remarkable contribution was made possible through generous donations from donors dedicated to supporting the vital work of emergency medical services in our community.
Bobbi expressed her gratitude, stating, "It is my privilege to witness the incredible impact of your generosity, dedication, and love for our community. First, let me express our heartfelt appreciation for your steadfast commitment to Burgess Health Center. Your past donations have transformed lives, providing essential medical care, comfort, and hope to our neighbors and friends. Your contributions have enabled us to invest in advanced equipment, attract top medical talent, and deliver the highest standard of care. We are unveiling, because of you, this new life-saving equipment."
This brand-new ambulance, delivered on September 26th, is a testament to the power of community collaboration. With over 700 miles of coverage, Burgess Health Center's ambulance service is vital in providing 911 assistance and paramedic support to Monona County and parts of Woodbury and Harrison counties.
"The safety of our patients and the well-being of our dedicated medical crews are paramount," said Karla Copple, Director of the Emergency and Inpatient Department at Burgess Health Center. "This generous gift from the Burgess Foundation ensures that we can continue to provide exceptional emergency medical services to our community. We are deeply grateful for the support of our donors, whose contributions have made this significant enhancement possible."
The new ambulance features advanced safety enhancements, including expanded storage space for life-saving equipment, a larger oxygen compartment, 4WD capabilities, liquid suspension for smoother rides, and security features such as brighter lights and high-quality reflective vinyl.
"We are deeply grateful for the unwavering support from our community members and partners. Your contributions are more than just financial; they are lifelines that ensure our ability to provide exceptional healthcare services," added Bobbi. "This new ambulance is a tangible representation of your generosity and commitment to the well-being of our community."
The Burgess Foundation extends its heartfelt appreciation to all the donors whose contributions have made this significant donation possible. Their continued support empowers Burgess Health Center to deliver outstanding medical care, making a lasting impact on the lives of individuals and families in our community.
Photo: (Front, left to right) Lou Hewitt, Bobbi Johnson, Director of the Burgess Foundation, Karla Copple, Director of Emergency and Inpatient Services, Lynn Wold, CEO of Burgess, Susan Johnson. (Back, left to right) Heidi Gage, Geri Johnson, Sara Solberg, Nick Lakey, Dejay Langel, Patrick Prorock and Cheryl Warner.