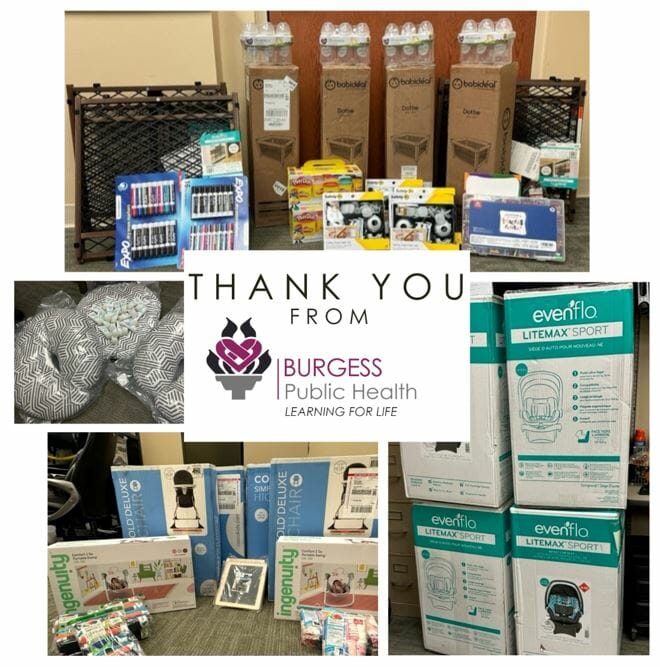 Learning for Life Program Receives Grant Funds
The Learning for Life program at Burgess Health Center would like to thank the Monona County Community Partners Foundation.  With grant money received from the Foundation, we were able to purchase child care and safety items for families in our program.  The families are able to earn points for the items by taking their children to well-child checks, the library, having home visits and a variety of other healthy activities.  These items purchased range from baby lotion and soap to pack-n-plays, safety gates, high chairs and more.  The grant allowed Learning for Life to have the child care items readily available when there is a need for them.  This will ensure children in our program have access to a safe environment.  Thank you!
Learning for Life is a free home visiting program for anyone in Monona County with children prenatal-5 years old.  Our parent educators assist parents in giving their children the best possible start by building a strong relationship and helping parents increase their confidence.  Our staff bring fun educational parent-child activities, provide support and encouragement, as well as complete developmental assessments to be sure the children are school ready when that time comes.  Enrolled families have access to passes to the LaunchPad Children's Museum and the Henry Doorly Zoo.  To enroll or find out more information call 712-423-9175.
The Learning for Life Program is funded by the Harrison, Monona and Shelby Early Childhood Iowa Board, Iowa Child Abuse Prevention Program grant funding and the Monona County Board of Supervisors.