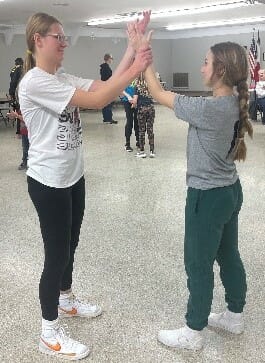 Learning for Life Hosts Two Successful Programs
Burgess Public Health and the Learning for Life program were pleased to host two Self-Defense and Abduction Awareness programs, one in Onawa and one in Mapleton.  The Public Health Department applied for and received special funding from the Community Partnership for Protecting Children (CPPC) and the HMS Decategorization Boards.  This funding made it possible to provide the programs for free to the residents of Monona County.
During the events, Public Health and the Learning for Life team provided information from the National Center for Missing and Exploited Children called "Be Safer with KidSmartz" and the Onawa Taekwondo Club provided instruction on self-defense techniques and how to use one's voice and body language.  The goal of the event was not only to bring families together but also strengthen them by providing hands-on experiences to help reduce stress and anxiety when in public and during their day to day lives.  40 adults and youth participated in the events and the majority left feeling more confident with a sense of control over their surroundings.  Many walked away with door prizes including summer pool passes, themed game night, meal, and cookie decorating baskets.  All participants were able to take personal alarms and a Child ID Kit from the National Child Identification program.
Learning for Life is a free home visiting program for anyone in Monona County with children prenatal to age five.  The program aims to assist parents in giving their children the best possible start by building a strong relationship and increasing their confidence.  The Learning for Life Program is funded by grants from the Harrison, Monona and Shelby Early Childhood Iowa Board, Iowa Child Abuse Prevention Program grant funding and the Monona County Board of Supervisors.  For more information on this program, call 712-423-9175.
If you are interested in joining the Onawa Taekwondo Club's regular classes, call Jaimie Murray at 712-420-2273.
Pictured: Annilia Pfeiffer and Addison Halverson