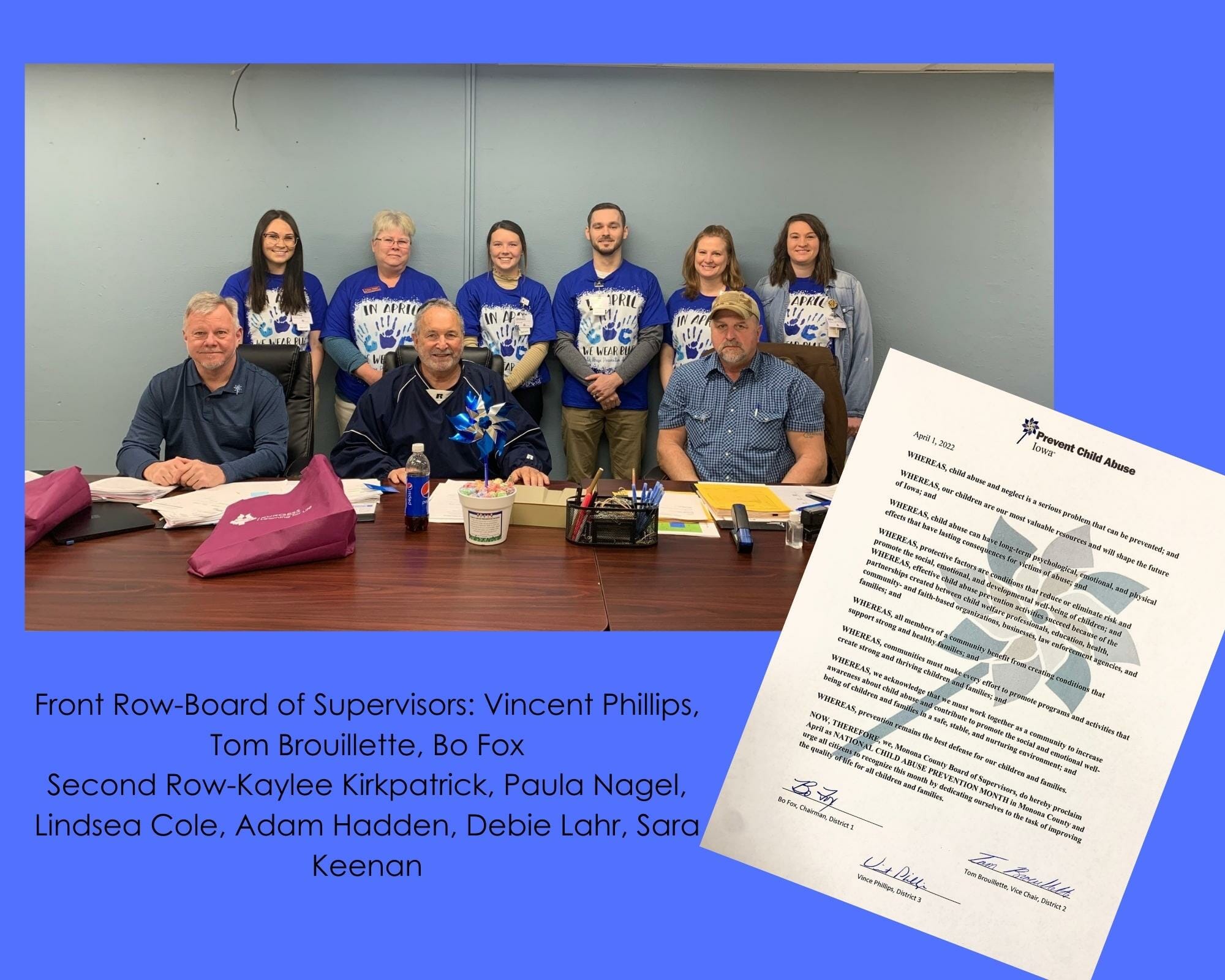 April is National Child Abuse Prevention Month in Monona County
On March 15, 2022 the Monona County Board of Supervisors signed a proclamation proclaiming April as National Child Abuse Prevention Month in Monona County and urge all citizens to recognize this month by dedicating ourselves to the tasks of improving the quality of life for all children and families.
Child Abuse Prevention Month recognizes the importance of families and communities working together to prevent child abuse and neglect and promotes the social and emotional well-being of children and families. April is a time to help people understand that safe, stable and nurturing relationships and environments are necessary to ensure that children grow up happy and healthy. We all play a role in supporting the well-being of others during this time.
Throughout CAP month, Prevent Child Abuse America and Monona County Child Abuse Prevention Council are using a community garden metaphor to reinforce the message that "Every day, we help families and children thrive."  Children and families are our greatest natural resource.  We all have a stake in preparing children to grow up to be healthy and thriving members of our community.  The best time to plant seeds of support for all children is now.  Every season presents a new opportunity to promote a young person's physical, emotional, and social development.  Adversity is not destiny.
You can show support for promoting positive childhood experiences and preventing adversity by wearing blue on APRIL 1st.  We ask that you post a picture on social media with the hashtag #WearBlueDay2022.  The council will also be distributing pinwheel flower pots to Monona County businesses.  They will serve as a visual reminder of the world we want-for all children to grow up happy, healthy, and prepared to succeed.  Please email dlahr@burgesshc.org or call 712-423-9175 if you would like a pinwheel flower pot in your business.
The Monona County Child Abuse Prevention Council meets regularly to ensure that EVERY CHILD has a safe childhood free of violence. The Council is actively seeking members. For information on how to be involved or if you or a friend would like to learn how to participate in educational early childhood home visits that will help your child's growth and development, please contact Burgess Public Health at 712-423-9175.  Our Learning for Life Program is a free home visiting program for families with children prenatal through kindergarten entry. The Learning for Life Program is funded by grants from the Harrison, Monona and Shelby Early Childhood Iowa Board, Iowa Child Abuse Prevention Program grant funding and the Monona County Board of Supervisors.