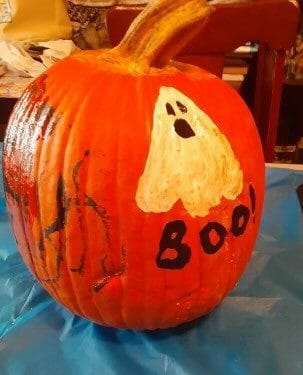 Learning for Life Program: Pumpkin Painting
The Learning for Life Program, offered by Burgess Public Health, held a group meeting on October 21, 2021. There were five families who attended virtually and several other families that sent in pictures of their painted pumpkins. Bomgaars of Onawa, IA provided pumpkins at a discounted rate and the Learning for Life staff delivered the pumpkins to each family with materials to decorate them. Parents had the opportunity to paint with their children and the children were able to show off their Halloween costumes!
If you or a friend would like to know how to enjoy group meetings, such as this, and to learn how to participate in educational home visits that will help your child's growth and development, please contact Burgess Health Center Public Health's Learning for Life Program, at 712-420-0054. Sara Keenan or Kaylee Kirkpatrick would be happy to talk to you about this exciting and beneficial program available in Monona County! Learning for Life is a free home visiting program for families with children under five years of age and expectant mothers. The Learning for Life program is funded by grants and support from the Harrison, Monona, and Shelby Early Childhood Iowa Board, Monona County Board of Supervisors and the Iowa Child Abuse Prevention Program.
To learn more about Public Health visit www.burgesshc.org/services/public-health/ or 712.423.9175.