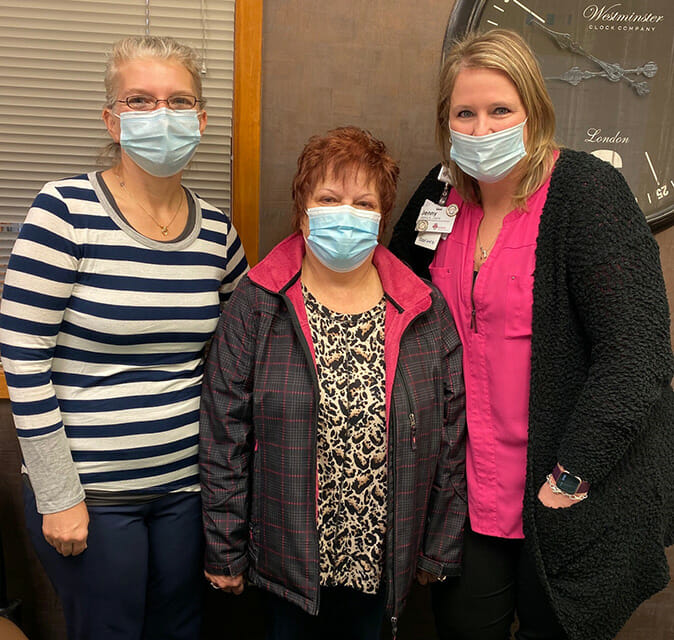 Guardian Angel's Recognized at Burgess Health Center
Burgess Health Center is proud to announce the nomination of Brenda Hinrickson and Jenny Kenney from the Burgess Home Health and Hospice Department for the Burgess Foundation Guardian Angel Award.
Sandy Harris, along with her brother Dennis Lee and sister, Vicky Lee, want to recognize and thank these two exceptional caregivers by nominating and donating in honor of her beloved mother, LaVirta "Vertie" Lee. These caregivers went above and beyond to care for Vertie and her family.
"With family members living in Seattle, Phoenix, and Soldier, they took extra time to communicate with all of us in a very compassionate way," said Harris. "We appreciated their professionalism and the kindness they extended to our family."
"We are so pleased that our mother's last days were treated with dignity and loving care," added Harris.
Burgess Foundation's Guardian Angel program provides patients, family members, and friends a chance to show their gratitude to a physician, nurse, or another caregiver who has played an exceptional role in their lives. The Guardian Angel received an acknowledgment letter announcing that a donation has been made in their honor and given a custom-crafted lapel pin to wear proudly.
Did a caregiver at Burgess make a memorable difference for you or your family? If so, you can honor that special person in a highly visible way through Burgess Foundation's Guardian Angel program. It is more than a pin. When you take advantage of our Guardian Angel program, you also help ensure the future of outstanding health care in the region.
Visit www.BurgessHC.org/about/foundation/guardian-angel/ or call 712-423-9374 to make your nomination(s).