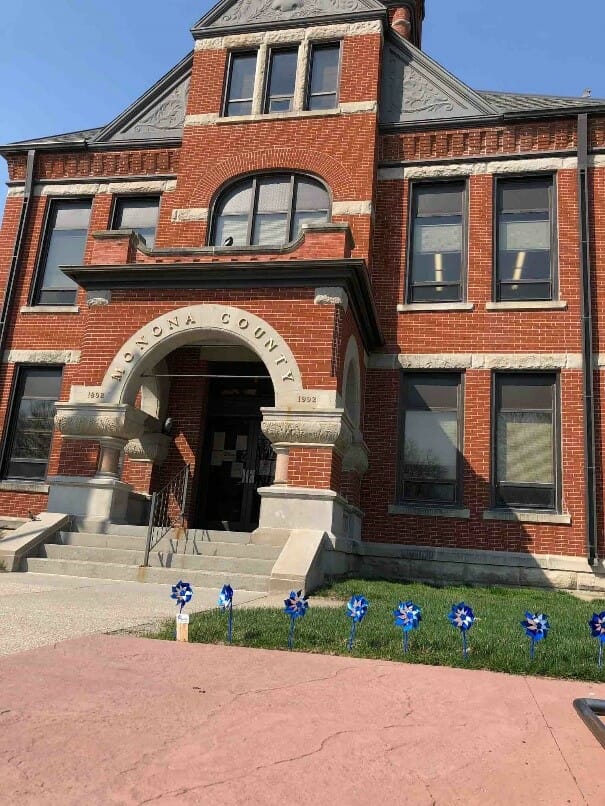 National Child Abuse Prevention Month in April
To kick off Child Abuse Prevention Month, the Learning for Life Program, through Burgess Health Center, set up pinwheel gardens around the county.  Glistening pinwheels were placed outside the front of the Burgess Health Center, Monona County Courthouse, Soldier Community Center, Fisher Whiting Memorial Library, and at the Whiting and West Monona Elementary Schools. The pinwheels are the national symbol for child abuse and neglect prevention. As you see these pinwheels, we hope you are able to take a moment to recognize how you can help to prevent child abuse and neglect by supporting and nurturing the families in our community. Together we can continue to make Monona County a happy, healthy, and thriving county—starting with our children! Please like our Facebook Page, Learning for Life at Burgess Health Center, to learn more about how you can help!
If you or a friend would like to learn how to participate in educational early childhood home visits that will help your child's growth and development, please contact Sara Keenan or Debie Lahr with Burgess Health Center's Learning for Life Program, at 712-420-0054.  The Learning for Life Program is a free home visiting program for families with children prenatal through kindergarten entry. The Learning for Life Program is funded by grants from the Harrison, Monona and Shelby Early Childhood Iowa Board and the Harrison, Monona and Shelby Decategorization Board and ICAPP grant funding.