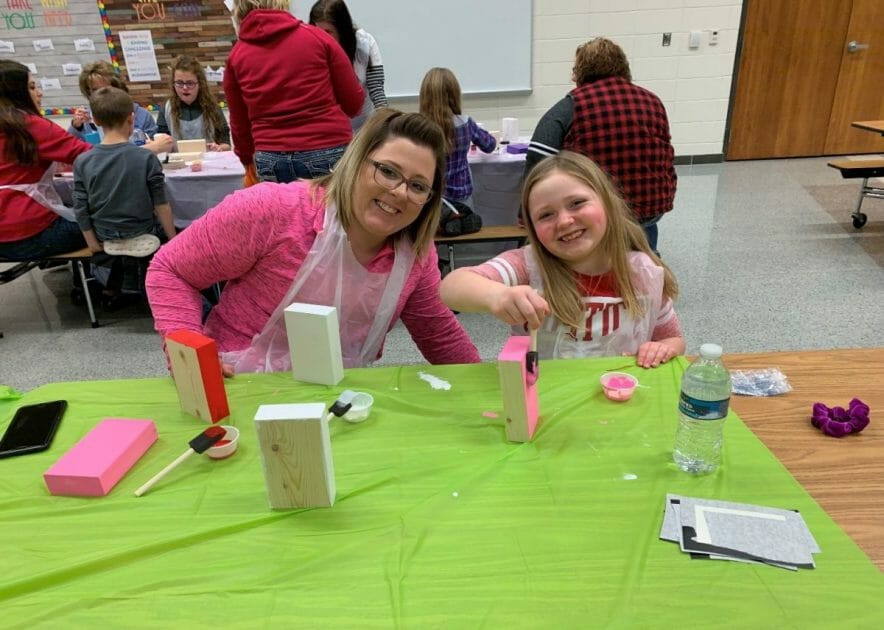 Learning for Life Program: Family Paint Night
The Learning for Life Program with Burgess Health Center Public Health was very pleased to be able to host a Family Paint Night on January 21 at the West Monona Elementary. The Public Health Department applied for and received special funding from the Neighborhood Network Grant, which made it possible to provide this event free to the residents of Monona County and the surrounding areas. The Learning for Life Parent Educators worked with Simply Signs and Creative Customs, and the Iowa State University Extension Office to provide this fun event.
During this event, families were able to pick from two different wood designs to create, 'Welcome to our Home" or "Love you more." Families worked together to paint each block, place the stencil, and complete the painting to have a beautiful new decoration. The designs were created on separate blocks so that everyone in the family could be involved and have a roll in this creation. There were 19 families in attendance for a total of 38 participants. All families were entered into a drawing, and three lucky families were able to go home with a basket of goodies.
Simply Signs and Creative Customs provided instructions to complete the project and helped each family individually answer questions as they arose. The Learning for Life Parent Educators provided information on the importance of parent-child interaction. The Iowa State University Extension Office offered a delicious soup, cornbread, and some healthy snacks. ISU also provided information on how to make healthy snacks and where to find more healthy eating choices.
This event was funded by the support of Community Partnership for Protecting Children's Neighborhood Networks Grant. This grant's goal is to bring families together to build lasting relationships in their community. The learning for Life program is funded by grants from the Harrison, Monona, and Shelby Early Childhood Iowa (ECI) board and the Iowa Child Abuse Prevention Program (ICAPP).
To learn more about Public Health, visit www.burgesshc.org/services/public-health/ or 712.423.9153.
Pictured: Larissa King and daughter Brynnley.