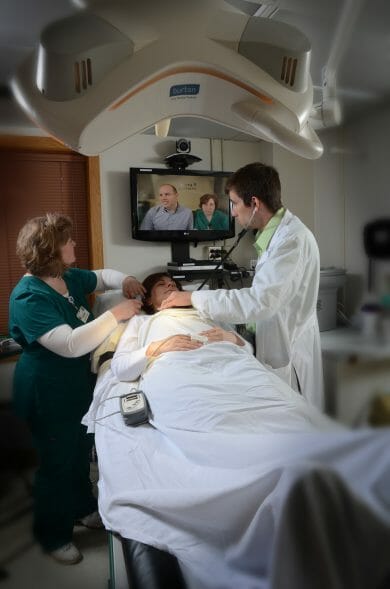 Burgess Health Center receives eCARE Emergency funding
In a medical emergency, a quick response from board-certified emergency physicians and critical care nurses can mean the difference between life and death. Burgess Health Center will soon have access to these services, thanks to a new eCARE Emergency telemedicine program funded through a grant from The Leona M. and Harry B. Helmsley Charitable Trust Rural Health Program.
The $170,988 grant will allow the facility to acquire equipment and training to connect with Avera Health in Sioux Falls, S.D., where emergency staff will be on duty 24 hours a day, 7 days a week to help local medical providers deliver the best possible care in the shortest possible time.
High-definition cameras and microphones will allow the eCARE Emergency virtual team at Avera to both see and hear everything that is taking place in the emergency room. They can guide rural nurses and other providers in patient care until a rural physician arrives. They can also consult with doctors on difficult cases.
"We are committed to delivering the best possible healthcare to our community, and this technology takes a big step toward meeting that commitment," said Fran Tramp, president of Burgess Health Center. "We really appreciate the assistance of the Helmsley Charitable Trust  to make this possible."
The new eCARE Emergency service is expected to be operational by September 2019.
This type of hub-and-spoke health delivery, pioneered by Avera and Helmsley, is also being used to bring pharmacy services and intensive care specialty access to rural hospitals and patients across the seven-state region.
The eCare programs are part of The Helmsley Charitable Trust Rural Healthcare Program's ongoing efforts to improve the lives of rural residents in Minnesota, Iowa, Nebraska, South Dakota, North Dakota, Montana and Wyoming. Programs include telehealth services, training, emergency medical care, diagnostics, cardiac care, cancer care and research into innovations that specifically address the challenges of healthcare delivery in Rural America.
"Our goal is to ensure that people who live in rural America have access to quality healthcare as close to home as possible," said Walter Panzirer, trustee of the Helmsley Charitable Trust. "To achieve this, rural hospitals need to be viable and they need to have up-to-date equipment, so patients can receive essential healthcare services locally. This initiative is one of many that aims to improve healthcare access and health outcomes in our region."
Burgess Health Center Contact:
Katie Knutson
Marketing Director
1600 Diamond Street
Onawa, IA 51040
712.423.9198
kknutson@burgesshc.org
HELMSLEY CONTACT:
Elizabeth Ruen
ERuen@helmsleytrust.org
605.361.9848
About the Helmsley Charitable Trust
The Leona M. and Harry B. Helmsley Charitable Trust aspires to improve lives by supporting exceptional efforts in the U.S. and around the world in health and select place-based initiatives. Since beginning active grantmaking in 2008, Helmsley has committed more than $2 billion for a wide range of charitable purposes. Helmsley's Rural Healthcare Program funds innovative projects that use information technologies to connect rural patients to emergency medical care, bring the latest medical therapies to patients in remote areas, and provide state-of-the-art training for rural hospitals and EMS personnel. To date, this program has awarded more than $380 million to organizations and initiatives in the upper Midwest states of North Dakota, South Dakota, Nebraska, Wyoming, Minnesota, Iowa, and Montana. For more information, visit www.helmsleytrust.org.