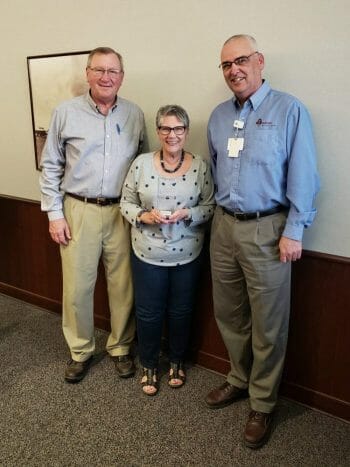 Framke Retires from Burgess Governing Boards After 29 Years
Terry Framke, Vice President of the Burgess Health Center Board of Directors, retired in May after 29 years of service.  During her tenure, she has also served as a Burgess Foundation board member, which she will retire from in June.
"We thank Terry for her 29 years of dedicated service to our board of directors, including her years on the Burgess Foundation Board," Fran Tramp, President of Burgess Health Center exclaimed. "We appreciate her leadership and commitment to our organization, and we are grateful for her many contributions to Burgess's success. We wish her all the best."
Framke was present through the navigation of numerous healthcare legislation changes, hospital and service line expansions, and a facility name change, just to name a few. She also fully supported the Foundation Board and their goal of donating $1 million dollars for the purchase of new equipment at Burgess Health Center over the last 5 years.
"I want to express my deep appreciation for the opportunity to work with and benefit from so many talented and dedicated colleagues," said Framke. "My board position has also allowed me to engage with many of the most impressive community leaders and members and I thank them for allowing me to help support the goals and priorities of the organization."
Pictured: Jim Westergaard, president of the Board of Directors; Terry Framke, retiring/outgoing Board member; Fran Tramp, president of Burgess Health Center.