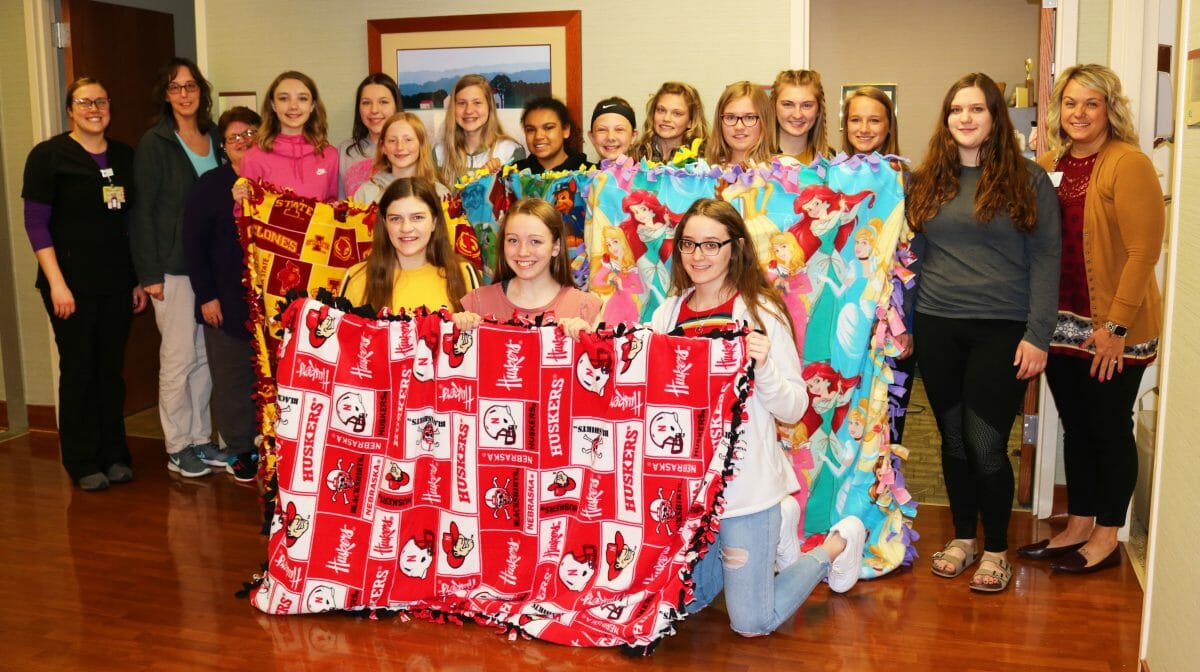 Foundation, Burgess People Care, and West Monona High School Team up to Provide Comfort to Children in the ER
In early December, Burgess Foundation and Burgess People Care teamed up with the West Monona High School Family Career and Community Leaders of America class (FCCLA) to provide 30 hand-made fleece blankets for the children that are seen in the Burgess Health Center Emergency Room.
Karla Copple, Director of Emergency Services at Burgess Health Center, accepted the blankets from the students. Copple and the ER staff are now ready to provide additional comfort to children entering the ER.
"We were excited to hear of this project and what it would mean to our younger patients," said Copple. "The children that come in with injuries or sickness are already scared. With this donation, we are able to provide them with a comfort item they will be able to take home after discharge."
The cost of the fabric was approximately $1,000 but is priceless according to Burgess People Care member, Janie Schlitter.
"We are glad that we could help fund a service project like this," said Schlitter. "It not only comforts the children in our ER, but it also provided the students a chance to give back to the community."
###
PHOTO front row from left to right: Abby Wessel, Emma Black, Amber Disney. Middle row: Laura Heisterkamp, Morgan Warner, Ally Darwin, Maggie Lage, Joanna Koenig, Kloie Lester, Skyla McClure. Back row: Kelsey Gray, Janie Schlitter, Lori Jensen, Averie DeBartolo, Jayleigh Anderson, Devyn Beck, Tasha Miller, and Karla Copple, Director of Emergency Services.
About Burgess Foundation:
Burgess Foundation is committed to seeking community partners whose time, talent and treasures ensure the future of Burgess Health Center.
About Burgess People Care:
Burgess People Care is a long-time employee committee of Burgess Health Center that raises funds to support community drives, events and fellow employees.
About Burgess Health Center:
Burgess Health Center, located in Onawa, IA, is a rural acute care hospital that is accredited by the State of Iowa, and also has family clinics that serve the communities of Dunlap, Sloan, and Mapleton, IA as well as Decatur, NE. The staff is committed to improving the quality of life for the people and communities served, by providing excellent healthcare and exceptional patient experiences.