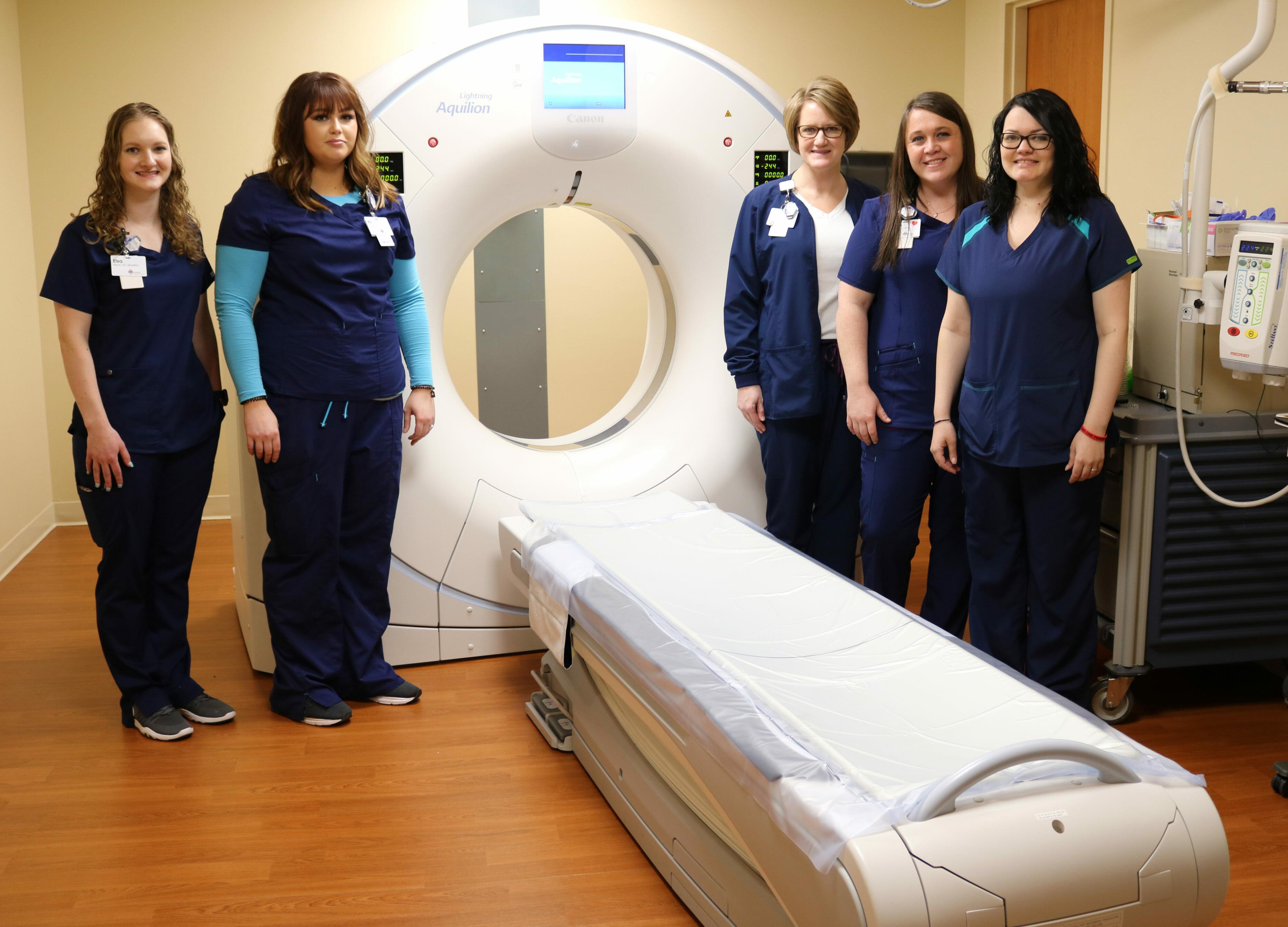 Burgess Health Center Installs New CT Scanner
Patients of Burgess Health Center will now have access to safe and comfortable exams with the recent installation of Canon Medical Systems AquilionTM Lightning CT system. The 80-detector-row CT is designed for full-body imaging and routine volumetric scanning with the premium CT technology found on high-end systems so that providers can deliver a better patient experience.
"To ensure our patients continue receiving the best possible care without sacrificing the image quality we rely on for fast and accurate diagnoses, we have bolstered our imaging offerings by installing this new system," stated Jenny Coble, Director of Radiology, Burgess Health Center. "We constantly strive to provide a better patient experience with safer and lower-dose exams for all of our facility's imaging needs, and the Aquilion Lightning will help us to continue exceeding these goals and meeting industry standards."
The Aquilion Lightning delivers fast reconstruction speeds of up to 50 images per second at full resolution, and with the industry's thinnest slices at 0.5 mm and a 78 cm bore, it optimizes workflow and patient comfort. To simplify exams, the system comes standard with Adaptive Diagnostic solutions, such as Single Energy Metal Artifact Reduction (SEMARTM).
"The machine is designed to operate reliably and efficiently, producing high-quality images that can potentially help more patients," said Dominic Smith, senior director, CT, PET/CT, and MR Business Units, Canon Medical Systems. "Additionally, providers don't have to choose between a cost-effective solution and premium patient care, as the Aquilion Lightning helps reduce dose and improve patient safety."
Pictured left to right: Elsa Roslansky, Ali Sears, Jenny Coble, Katie West, and Molly Savery.
###
About Burgess Health Center
Burgess Health Center, located in Onawa, Iowa, is a rural acute care hospital that is accredited by the State of Iowa. Burgess Family Clinics serve the communities of Dunlap, Sloan, and Mapleton in Iowa as well as Decatur, Neb. Burgess has retail family pharmacies in Dunlap and Whiting, Iowa. The staff is committed to improving the quality of life for the people and communities served, by providing excellent healthcare and exceptional patient experiences.
About Canon Medical Systems USA
Canon Medical Systems USA, Inc., headquartered in Tustin, California, markets, sells, distributes and services radiology and cardiovascular systems, including CT, MR ultrasound, X-ray and interventional X-ray equipment. For more information visit Canon Medical Systems website at https://us.medical.canon.
About Canon Medical Systems Corporation
Canon Medical Systems Corporation develops and manufactures diagnostic imaging systems including CT, MRI, ultrasound, X-ray systems, and clinical laboratory systems and provides them to around 140 countries and regions around the world, offering technology that provides faster diagnosis and early treatment. Under the slogan "Made for Life" (Made for Partnerships, Made for Patients, Made for You.), Canon Medical Systems is making positive contributions toward hospital management, and provides a range of patient-friendly healthcare systems and services, continuing its long tradition of contributing to healthcare.