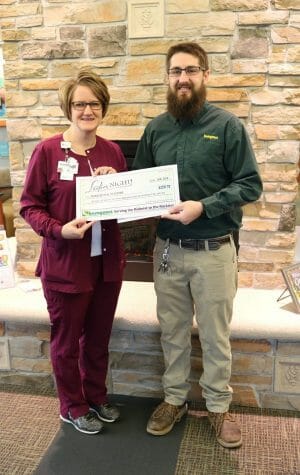 Burgess Accepts Bomgaars Ladies' Night Donation
In early December, Bomgaars held a night of festive fun and holiday shopping for ladies, and today, the radiology department at Burgess Health Center received a generous donation.
Bomgaars joined with local cancer centers and hospitals to raise awareness of women's health issues and passed along a 20% discount for the ladies in attendance on December 2 from 5-8 p.m.  A donation of the evening's total sales was pledged back into the community to help local agencies.
"We are grateful to have the support from our local Bomgaar's store and the ladies that braved the cold that evening for some great discounts," Jenny Coble, Director of Radiology stated. "This community rallies when it's for a good cause, and in this case, cancer screening and women's health."
The donation of $259.70 will go towards the purchase of a new breast exam module that aids women in the recognition and detection of breast disorders, sizes of nodules, and other abnormalities during a breast examination. Breast cancer cannot be prevented; however, Burgess Health Center continues to provide and invest in the latest technologies, education, and support services for early detection.
PHOTO: Jenny Coble, Director of Radiology accepting the donation from Eric Ridder, store manager at Bomgaars Onawa.