Rock the Heart Beat at Wear Red 2020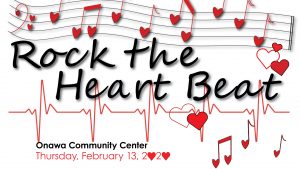 Join us for Burgess Health Center's Wear Red for Heart Health Luncheon event, Thursday, February 13. Burgess has organized presentations and more than a dozen booths to highlight heart health. The day's theme is "Rock the Heart Beat."
Doors of the Onawa Community Center open at 10:30 a.m. with education stations, fun booths, and chair massages. Staley's will provide a delicious buffet meal served at approximately 11:30 a.m.
Mahmoud Sharaf, MD of Cardiovascular Associates at UnityPoint Health of Sioux City, will discuss how to "Rock the Heart Beat" and connect physical activity to heart health. As an interventional cardiologist, Dr. Sharaf diagnoses and treats abnormalities that impair the function of the cardiovascular system. He and his team at Unity Point work extremely hard to get the best outcome for their patients.
Registration cost is $10 if paid on or before February 7, and $12 after that date. Active Burgess volunteers get $2 off the price of registration. Registration forms are available at all Burgess locations. Individuals may also register by calling (712) 423-9200.