Milestone & Guardian Angel Tree Lighting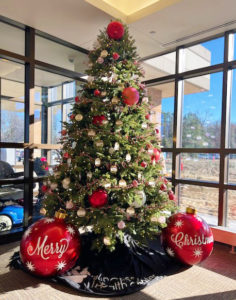 We invite you to commemorate the holidays at the 17th Annual Burgess Foundation Milestone & Guardian Angel Tree Lighting Wednesday, December 7, 2022, at 6 p.m. in the Burgess Health Center lobby.  A beautiful 9-ft sparkling Balsam Fir Christmas Tree will light up the lobby and honor people who are dear to us.  Amid thousands of twinkly white lights, the tree will feature a personalized ornament for each life recognized during the last year.
Commemorative gifts made to the foundation also observe births, graduations, anniversaries, and holidays. All commemorative gifts help to enhance the quality care provided at Burgess Health Center.
Following the lighting, complimentary refreshments will be available for all in attendance.
For more information, contact Bobbi Johnson, director of Burgess Foundation, by emailing bjohnson@burgesshc.org or calling 712-423-9374.
A video of the night's events will be uploaded to our Burgess Facebook page.