Autumn in the Hills Bus Trip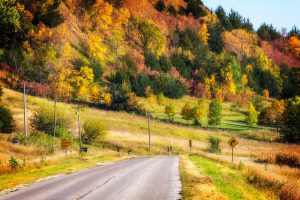 Tour the Loess Hills in the most beautiful time of the year!
We begin our day enjoying a light breakfast before hitting the trail to the Ingemann Danish Church in Moorhead and hear the stories of the immigrant's trials and tragedies. Next, we will move onto Moorhead Cultural Center and Loess Hills Gift Shop in Moorhead to view (and shop) local artists and craftsmen work inside the fully restored Cover Country School House. From here we will cross the street to view the "Celebrate the Hills Art Show" at the Moorhead Cultural Center.
Next is the Loess Hills Forest Scenic Overlook where we will take full use of the deck overlooking the Missouri River Valley and take a step back in time when the Native Americans stood watch from the tops of the Loess Hills.
The Loess Hills Lavender Farm is where we will enjoy a homecooked meal while basking in the intoxicating aroma and beauty of lavender. Then, get creative making a lavender craft before visiting the gift shop filled with lavender plants, bath body products, crafts, and an array of lavender gifts.
Marvel at the 22-foot long, life-size, wood sculpture of the Last Supper and 30-foot, stainless-steel, figures of Mary and Jesus at Trinity Heights. Stroll the garden pathways to experience the Way of the Saints, honoring more than 60 saints before visiting the Marian Center Gift Shop.
From here we will depart for Browns Family Theater where we will enjoy a delicious buffet dinner and the antics of three profes­sional actresses who present the show "Loony Lutherans". These wacky girls use music, comedy, and some help from the audience to share some age-old wisdom for living a long healthy life the Lutheran way – and you don't have to be Lutheran to love them!
Click here for the full itinerary.